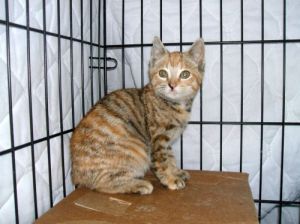 Well, Thanksgiving is almost here.  What better time to bring the family together and catch up and eat good food.  Given that it's the holiday season, we hope that many loving families will be compelled to come to our adoption clinic and maybe give a needy cat a home - a cat like Spitfire
. 
Spitfire is about 4 months old, and the picture doesn't do her justice. Her coloring is very unusual.  Our best ID for her coat is grey tiger in the front and orange tiger marking on the back half of her, but she's really a unique and a very affectionate cat.  
Come check out Spitfire, and all of our other kitties, at our adoption clinic this Saturday!  Wouldn't it be nice to have one more thing to be thankful for?